JDK is on Twitter!
Follow us at @JDKaudio for news, updates, promotions, events and more! Use the hashtag #JDKaudio to show us what you've got. We can't wait to see what you've got to say!

See us on Twitter.
JDK's Record-Breaking Fall Sales
JDK's products have seen a huge increase in numbers this fall, making record-breaking sales over the last few months. From September to October, JDK saw an increase of over 250% and then another 129% from October to November, surpassing our goals and shattering previous numbers. JDK Sales did a great job and we would like to thank our dedicated customers!
Did You Know – JDK's R24 has a Vintage History?
Just like all of the circuits in the JDK product line, the R24 Dual Channel Equalizer has a historical track record in the audio industry. In the late 1970's, a group of engineers split off from API and formed their own company called (confusingly enough) APSI. The company briefly produced consoles and modules, including an outstanding four band EQ called the 562 which has nearly disappeared over time. The circuits of this EQ can now be found in both the rack-mounted JDK R24, and the 500 series V14 version. It's another example of outstanding sonic integrity coupled with extraordinary value.
Did You Know – JDK's R22 comes from the Paragon live console
JDK's R22 compressor is similar to other JDK products in that its has its own special pedigree — in this case, the compressor has been surgically removed from the famous Paragon live console and reformatted into a dual mono/stereo rack mount solution. Built to the same exacting standards as other JDK (and API) products, the R22 is made in America and provides serious bang-for-the-buck at only about six hundred dollars per channel. Given the history of the unit, we think that sounds like a bargain.
Did You Know – R20 Based Loosely on ATI Paragon Mic Pre
The ATI Paragon mixing console was the baby of API President Larry Droppa. After Larry came off the road as Stevie Wonder's in-ear monitor engineer, he put the Paragon on it. Designed for live mixing, the Paragon toured with the likes of Cher, U2, Martina McBride, Garth Brooks, Faith Hill, The Dixie Chicks, Steve Miller and Lillith Fair. After Droppa purchased API he started looking around for inspiration for the JDK line. He had to look no further than the Paragon. JDK's R20 2 channel mic pre was designed with the legendary touring Paragon's mic pre in mind.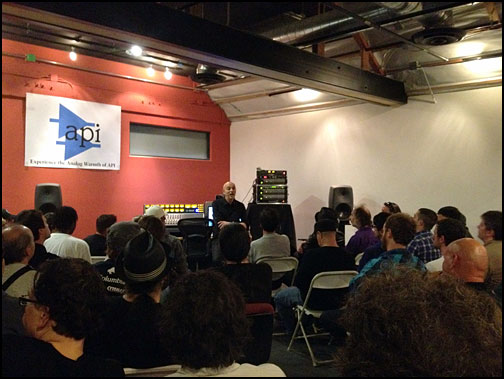 Joe Chiccarelli demonstrates the API 1608 at Westlake Pro Music's API/JDK day.
Chiccarelli Shines on API/JDK Day
Playing to a standing room only crowd at Westlake Pro Music's API/JDK day, Joe Chiccarelli entertained and educated music fans with his engineering expertise. Using an API 1608, the renowned producer, mixer and engineer held a demonstration and a Q&A session sponsored by West L.A. Music/Westlake Pro last week. The event was so successful that API plans on hosting more demonstration clinics in the future.