See what users are saying about JDK Audio.
"I bought the R20 about two months ago and I'm very pleased with it. I've tracked just about everything from acoustic/electric guitars, drums/percussion, bass and vocals. The pres are very punchy, smooth and full with a more natural sound. Everything I've recorded so far using the R20 has given me great results. The unit is built very solid and with great quality. I gave this five stars not just because of the great price, but also because of the great results it gives."
Eric Freeman
Sweetwater.com customer review
"...I can say that the R24 and the V14 sound absolutely amazing. They are astoundingly musical and work well in every situation."

"The new JDK Audio line provides great new products that all sound fantastic, yet are priced amazingly within reach. Anyone in the market for expanding their mic pre or equalizer should give these products serious consideration."
Russ Long
Pro Audio Review
"The JDK R20 is a staple in creating my drum sound. It is my go-to for rack/floor tom close-mic, and I also love using it on bass. In a rack full of pres that cost 2 to 3 times as much, it has found its place in the mix and always stands out."
Ryan Furlott
It Prevails, Kaddisfly, Ever We Fall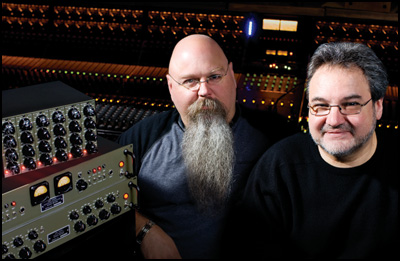 Vance Powell (left) and Richard Dodd
"I have used my V14's on every session since I got them...
they are a fantastic addition to any 500 rack."
Vance Powell
Chief Engineer
Blackbird Studio
"This is a 'Go To' eq."
Richard Dodd
Grammy Winning Engineer
"When clients come into our demo facility and compare mic pre's agaist each other, they continually choose the JDK R20 over units that cost twice as much.... we're not surprised, because after all, it's all about the sound!"
Kenny Patnaude
VP, Sales and Marketing
Dale Pro Audio
www.daleproaudio.com
"It's absolutely fantastic! You can hear the compression working, but it's so smooth that its satisfying to the ear. You can even push it really hard, really squash it, and it still sounds gorgeous. We've used it when re-amping vocals, bass, and drum subs and everything sounds amazing. I've also used it when tracking vocals, and a drum kit (ran the kick and snare through it), also sounds amazing. Fantastic product, with huge versatility."

"Check where it's living: ArtiSans Label Studios"
Kyle Griffin
"I started using it on some alt. rock mixes a couple of weeks ago and was just loving it. It added, dare I say, a vinyl like quality to the mixes. Absolutely wonderful on the hard knee and thrust setting. Very cool, great on slap and pop with thrust engaged so that the low end doesn't get clamped too much yet the higher string pops do not clip the a/d converters."

"Everything sounds better through it."

"Everything that I love about this unit: The price, the sound (better than many other BIG name comps/lim's), and the speed at which I can dial in not just a good usable but a Great sound worthy of your showpiece tracks."

"THIS THING ROCKS!!!"
Nathan Paul
Chief Engineer/Producer
Mystic Recording Studios
"The compressor sounds great!!! I'm still tooling around with different combinations of settings to find out what I like, but I've a-b'd it with compressors and limiters that I usually use on the master fader and the compressor is far superior - it sounds bigger and brighter than the waves SSL quad compressor, and I love the "thrust" setting and what it does to the drums!!!!"
Larry Wade