New Specs Just in Time for the New Year
Our V14 and R24 are both very popular members of our JDK line—and as such our sales department is constantly answering questions about them. As a result, our engineers took the initiative to update the product pages with new manuals and expanded spec sections. Check them out here http://jdkaudio.com/v14.html and here http://jdkaudio.com/r24.html. Specs for the Q range on both products have been added, and the PDF manuals which can be found on each page have been completely overhauled for your convenience.
You can email Mark Seman in our sales department (mseman @ JDKAudio.com) at any time, and he will be happy to assist you.
JDK gear used with SMASH-ing success
The Offspring is celebrating 20 years since the release of its platinum-selling album "Smash" with a world tour, and JDK gear is in being used in the band's rig. Greg Bess, who does front of house for The Offspring, swears by the quality of the JDK R22 Dual Channel Compressor. He says that its quality is consistent to gear he's used from both API, as well as the original ATI Paragon he's used for touring.
"I fell victim to the digital world for a while, and after having my fill I returned from the dark side and began rebuilding my analog outboard setup," recalls Greg. "I was looking for the perfect compressor for bass and vocals, and happened to run across the JDK line. After the first demo run with it, I knew I had to have it- and actually posted a money order from overseas!" The tour continues, with stops in cities including Las Vegas, Chicago, and Atlanta.
A Fresh, New Upgrade with JDK Modules
If you're in the Woodruff, SC area and you smell paint, it might be coming from the new renovations at Studio 101. Included in the major equipment upgrade are four JDK Audio V14 EQs, and two API 512c mic pre's. "The API/JDK 500-series modules are definitely the 'go-to' work horses for my studio. Love them!" shares studio owner Brad Phillips. Brad took some photos of the work-in-progress, which includes a full studio remodeling along with the newly-purchased gear.
Out the Door, and On the Road
We get a lot of big orders, but some of them catch our eye. Not long ago, we received an order for 12 JDK 8MX2 mic preamp/mixers, so we followed up to find out exactly what they're being used for. "We love them!" said CJ Boggs, a Pro Tools Operator for Firefly Entertainment of Nashville, TN. "They are being used as a touring 96 channel recording rig." The equipment is owned by the artists that contract Firefly Entertainment, although CJ isn't able to tell us who they are or what tours they've gone on. It's top secret. If you find yourself backstage at one of the top tours in the country this year, and see a giant rack of 8MX2's — that's who it is!
Compressing the Competition
Audio engineer Markus Schatz does things a little differently at Schatz Mastering Studio in Berlin, Germany, but it seems to be working out well. The studio purchased a R24 EQ and R22 Compressor a few years ago. According Schatz, "I use it sometimes as a stereo compressor (linked) and other times with two different mono signals. What I like about the JDK gear is the art of compressions, the big knobs and the analogue sound." So far, the equipment has been used for his own productions, as well as for mixing and mastering assignments. You can learn more about the many functions of the R22 Dual Channel Compressor here.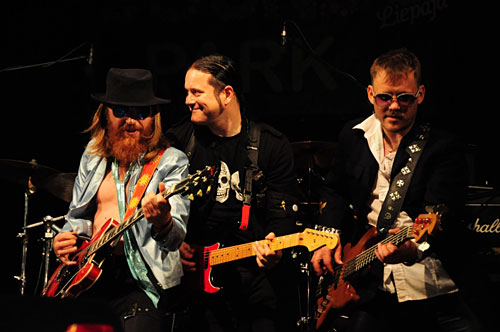 The Louie Fontaine Band
To Latvia .......and Beyond
The JDK Audio 8MX2 can be used for an array of functions, which is why it appealed to musician and music educator Terry Lagarde when he was on the hunt for a new mixer/mic pre. The New Orleans native plays guitar part-time for Latvia-based artist, Louie Fontaine. Since adding JDK to his gear collection, it's been used in a rig for personal recording projects, his educational business, as well as for demo guitar work for the Louie Fontaine band. According to Terry, the 8MX2 stands up strong against the competition, and is often favored for projects.