A Fresh, New Upgrade with JDK Modules
If you're in the Woodruff, SC area and you smell paint, it might be coming from the new renovations at Studio 101. Included in the major equipment upgrade are four JDK Audio V14 EQs, and two API 512c mic pre's. "The API/JDK 500-series modules are definitely the 'go-to' work horses for my studio. Love them!" shares studio owner Brad Phillips. Brad took some photos of the work-in-progress, which includes a full studio remodeling along with the newly-purchased gear.
Out the Door, and On the Road
We get a lot of big orders, but some of them catch our eye. Not long ago, we received an order for 12 JDK 8MX2 mic preamp/mixers, so we followed up to find out exactly what they're being used for. "We love them!" said CJ Boggs, a Pro Tools Operator for Firefly Entertainment of Nashville, TN. "They are being used as a touring 96 channel recording rig." The equipment is owned by the artists that contract Firefly Entertainment, although CJ isn't able to tell us who they are or what tours they've gone on. It's top secret. If you find yourself backstage at one of the top tours in the country this year, and see a giant rack of 8MX2's — that's who it is!
Compressing the Competition
Audio engineer Markus Schatz does things a little differently at Schatz Mastering Studio in Berlin, Germany, but it seems to be working out well. The studio purchased a R24 EQ and R22 Compressor a few years ago. According Schatz, "I use it sometimes as a stereo compressor (linked) and other times with two different mono signals. What I like about the JDK gear is the art of compressions, the big knobs and the analogue sound." So far, the equipment has been used for his own productions, as well as for mixing and mastering assignments. You can learn more about the many functions of the R22 Dual Channel Compressor here.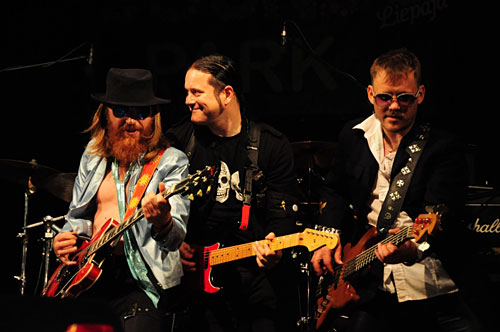 The Louie Fontaine Band at Summersound, July 2011
To Latvia .......and Beyond
The JDK Audio 8MX2 can be used for an array of functions, which is why it appealed to musician and music educator Terry Lagarde when he was on the hunt for a new mixer/mic pre. The New Orleans native plays guitar part-time for Latvia-based artist, Louie Fontaine. Since adding JDK to his gear collection, it's been used in a rig for personal recording projects, his educational business, as well as for demo guitar work for the Louie Fontaine band. According to Terry, the 8MX2 stands up strong against the competition, and is often favored for projects.
The V12 Gets the Czar's Approval
At the end of 2013, Nashville engineer/producer Christopher "Czar" Smith listed the V12 compressor at the top of its class, calling it the one of the best purchases made (out of many) for the entire year. Now, the Czar has more to say about the matter, giving the product an in-depth review on his YouTube page. Among his favorite features are its LED metering and detented knobs, and overall simplicity and versatility. This review joins the ranks of other glowing reviews from ProAudio Review, Sound on Sound Magazine, and TapeOp Magazine. But hey, who's to argue with the Czar?
V12 Compressor — Go Big or Go Stereo
Did you know two channels of the V12 Single Channel Compressor can be linked for use as a stereo compressor? It's possible with true RMS power summing of the left and right signals. The unique product, which features API's patented award winning THRUST® compressor circuit, has earned the spotlight in numerous publications. Tape Op Magazine, which raves about each of JDK's 500-Series modules, says "the V12 is a perfect, vibey choice for smoothing out performances in a very musical and natural way". To boot, the compressor is a member of API's VPR Alliance. What's not to love about it?