Did You Know – JDK's R22 comes from the Paragon live console
JDK's R22 compressor is similar to other JDK products in that its has its own special pedigree — in this case, the compressor has been surgically removed from the famous Paragon live console and reformatted into a dual mono/stereo rack mount solution. Built to the same exacting standards as other JDK (and API) products, the R22 is made in America and provides serious bang-for-the-buck at only about six hundred dollars per channel. Given the history of the unit, we think that sounds like a bargain.
Did You Know – R20 Based Loosely on ATI Paragon Mic Pre
The ATI Paragon mixing console was the baby of API President Larry Droppa. After Larry came off the road as Stevie Wonder's in-ear monitor engineer, he put the Paragon on it. Designed for live mixing, the Paragon toured with the likes of Cher, U2, Martina McBride, Garth Brooks, Faith Hill, The Dixie Chicks, Steve Miller and Lillith Fair. After Droppa purchased API he started looking around for inspiration for the JDK line. He had to look no further than the Paragon. JDK's R20 2 channel mic pre was designed with the legendary touring Paragon's mic pre in mind.
One Last Hip Hip Hoorah for the Red Plated 8MX2
ATI's famed 8MX2 is heading for London and the Olympics. NBC added eight of the mixer/mic pre's to its collection for the games. While ATI's 8MX2 follows the torch, runs relays and swims laps in Europe, back in the states it's readying itself for a JDK make-over. The unit is clearing the final hurdles now. We'll let you know when it crosses the finish line.
Summer School with JDK
Bound for the beach? Not so fast. Summer school is back in session but don't worry, classes are compressed and easy on the ears. This month's Electronic Musician magazine schools audio engineers on the art of compression, limiting, expansion and gating techniques in the article Dynamics, Demystified. JDK's R22 features predominately in the compression section. Be sure to pick up a copy with the beach balls and flip flops. You don't want to miss this course.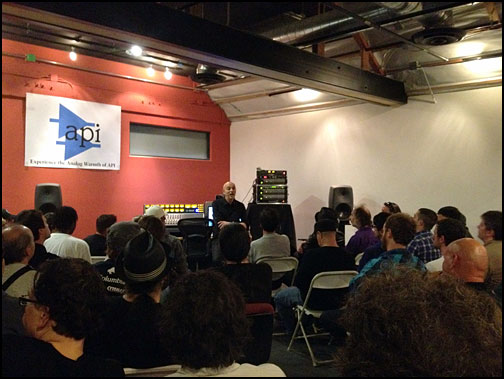 Joe Chiccarelli demonstrates the API 1608 at Westlake Pro Music's API/JDK day.
Chiccarelli Shines on API/JDK Day
Playing to a standing room only crowd at Westlake Pro Music's API/JDK day, Joe Chiccarelli entertained and educated music fans with his engineering expertise. Using an API 1608, the renowned producer, mixer and engineer held a demonstration and a Q&A session sponsored by West L.A. Music/Westlake Pro last week. The event was so successful that API plans on hosting more demonstration clinics in the future.
API and JDK Headed For Mumbai
With API's successful showing at PALME Middle East last month, API and JDK will expand their PALM showing with an appearance at PALM Expo 2012 May 31 through June 2 in Mumbai, India. The PALM tradeshows highlight professional audio and lighting equipment. This year marks API's third appearance at PALM India. Partnering with Ansata Computer Systems Pvt. Ltd. (API's exclusive dealer in India) API will showcase the legendary 1608 console alongside a multitude of API and JDK gear. They can be found at booth H 29-32.